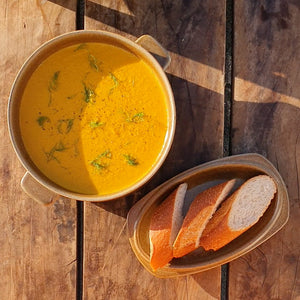 Half a squash
2 carrots
1 onion
1 fresh fennel
A splash of oil – any works
3 cloves of garlic
S&P, curry spices (optional)
1 cup vegetable stock
1 bottle of Little Island Cashew Cream
Cut the squash in half, remove the seeds, chop into cubes
Chop the garlic and remaining vegetables into similar size pieces. Save the fennel fronds for a garnish.
In a 5L stock pot, warm a splash of oil and add the onion, garlic, spices (if using), salt and pepper and fry until fragrant.
Add the fennel, carrot, and squash, allowing a...